10 Must-Have Warm Audiences for Facebook Ads
Dec 12, 2022
When it's time to run ads on Facebook… there are two main things you need immediately:
Content to run an ad to (duh)
An audience to see the content (also duh)
More than likely you've already got the content. Which leaves the audience part left to create.
Before creating any ads, it's a great idea to hop over to the Audience section of Ads Manager and review what's there.
If you're starting from scratch, no worries. This post will get you up to speed on the 10 core audiences you must create to run Facebook ads.
And if you already have audiences – awesome! Use this post to do an Audience Audit and ensure those audiences are up to date.
You'll use these 10 warm audiences over and over in your marketing.
Not familiar with what a warm audience is? Let me explain.
Marketing has two main categories of audiences: cold and warm.
A cold audience is made up of people who have never heard of you.
These are potential leads, prospects or customers. But they don't know you super well yet. Hence the "cold" part.
A warm audience is made up of people who are already familiar with who you are and what you do.
These are the people most likely to convert, aka become a customer.
A warm audience is the easiest audience to market to – because they know, like and trust you.
And that "know, like, trust" factor is key to generating sales.
Two things before we get started…
If you're short on time, you can watch this video that summarizes everything below:
The 10 Must Have Warm Audiences for Facebook Ads
Website Traffic – 3o days and 180 days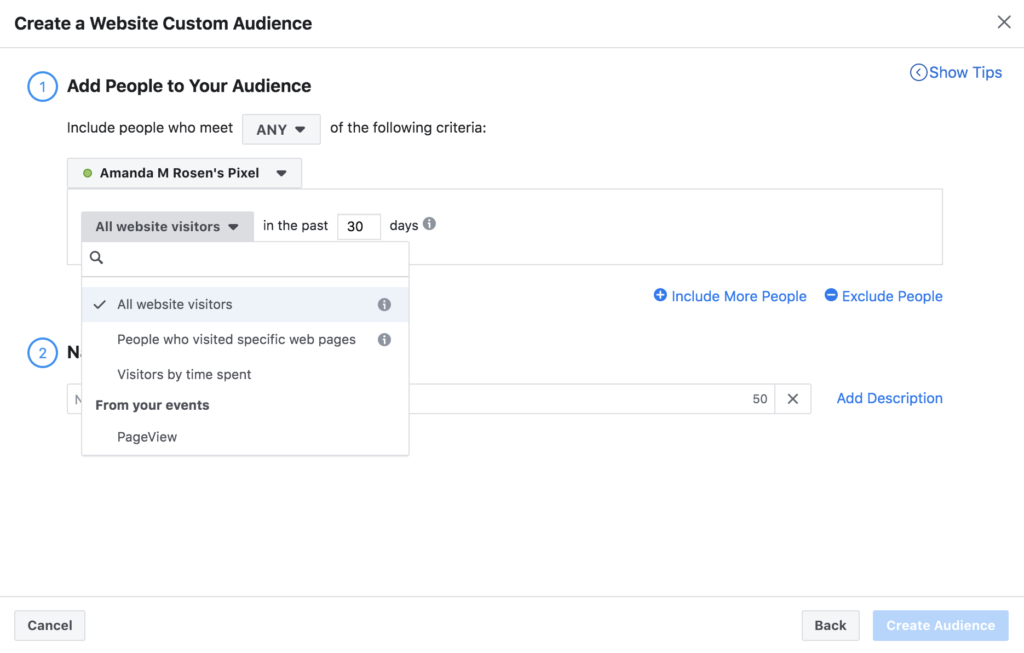 There are two ways to create a website audience:
All website visitors

– Any place your Facebook pixel is installed will be grouped into this audience.
People who visited specific web pages

– Use this option if your pixel is installed on multiple websites that share zero commonality and you need to differentiate web traffic. You'll enter in the homepage URL for the site. Create a

new

audience using this method for each unique website.
You can disregard the "visitors by time spent" because that isn't a core audience.
Once you've chosen the method of creation, you need to target two different time frames:
30 Days

– This is a super hot segment of traffic. These are people who have

very recently

been to your website.
180 Days

– These are people who still know who you are, but some may be less familiar because it's been a few months since they've visited.
There will be some overlap in this group. That's okay.
Your Next Step: Create these audiences – if you chose "all website visitors" you'll have TWO audiences. If you chose specific web pages, you'll have more than two.
---
Email Subscribers – Full List & Relevant Segments
Facebook calls this a "Customer List" and when you click that option on the Custom Audience box, you'll see this: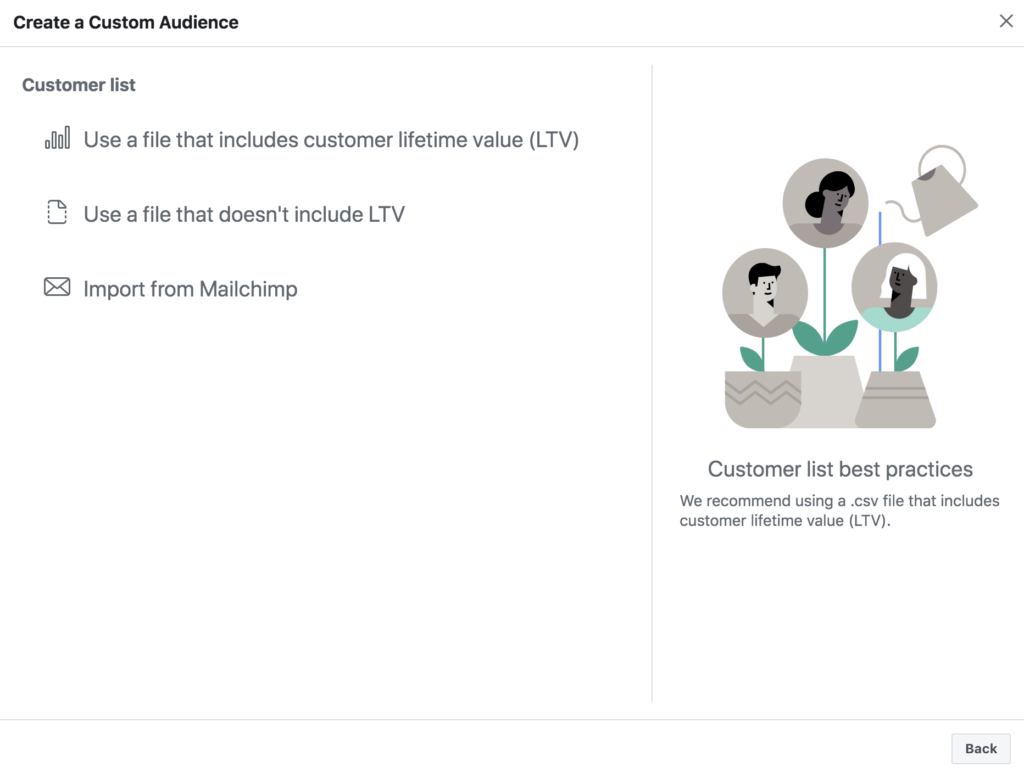 Here are what the customer list options mean:
Use a file that includes customer lifetime value (LTV)

– this is a specific set of data around purchase behavior. To use this, ensure your email list export contains the

lifetime purchase value

of each customer. So if a customer spent $500 with you so far,

you'll need a column in your export that indicates this.
Use a file that doesn't include LTV

– this is obviously the opposite! If you don't have an email or customer system that tracks purchase data, you can choose this option.
Import from MailChimp is pretty self-explanatory, right?
So… you're probably wondering… what's with LTV?

I'll tell you. If you can get that purchase data, I recommend doing it. Here's why:

LTV is an important data point to the Facebook algorithm. It indicates how dedicated of a customer someone on your list is. And it provides valuable information about how strong a consumer that person is for your brand.

And when you later begin generating your cold audiences (many of which use your warm audiences are starting points) you can find a cold audience that is MUCH more likely to purchase. Because when you base a lookalike (aka… cold) audience on an LTV audience, those cold prospects will more likely to purchase.
Okay, so make your selection and your next screen looks like this: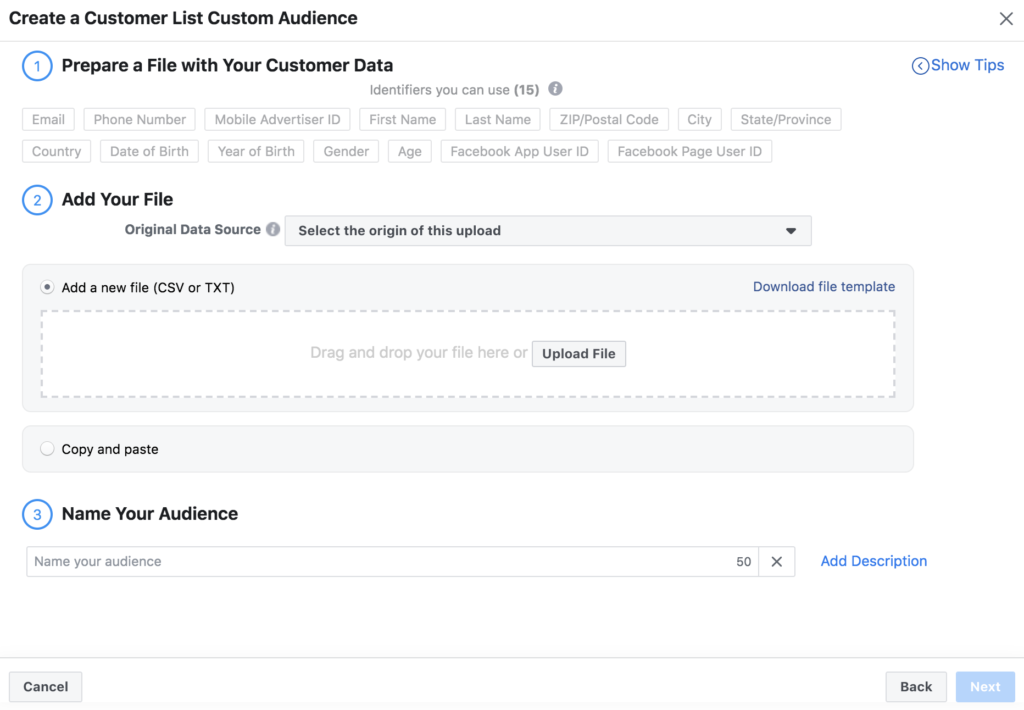 Which means you will need an export from your email software in .csv format. This is super easy to do and most email softwares make this very obvious.
Upload the .csv file here. When you click "next", you'll be shown fields to map. This simply means you'll decide to import first names as "first names" and email addresses as "email addresses" and so on.
The second customer list audience to consider making is made up of any segments or subsections of your full email list
For example, if you have anyone who has purchased a specific product, or downloaded a specific freebie. As long as the list has more than 100 people, you can add it as an audience.
Your Next Step: Create an audience with your full email list, and any additional email list audiences made up of segments or other groups (as it makes sense to your particular business)
---
Thank You Pages – 30 Days and 180 Days
We're back to another custom website traffic audience with these two. Specifically any confirmation pages for things like:
Webinars registrations
Email signup confirmation pages
Purchase confirmation pages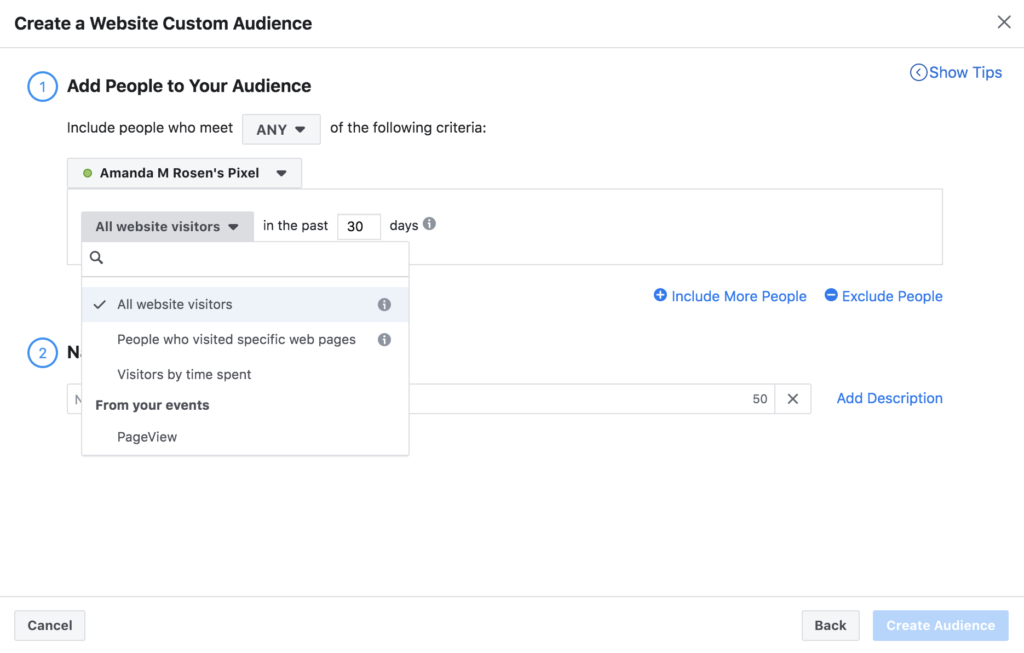 For example, if you send anyone who downloads a freebie to your site to a confirmation page (like… amandamrosen.com/thanks/), you'll want to create a custom audience for this.
You'll use the people who visited specific web pages option here.
Then, same as with website traffic, you'll target the 30 day and 180 day timeframes.
"… but why these timeframes??" you may be wondering. Here's why: when you're creating ads, sometimes you'll need to exclude these audiences.

For example, if you decide to run an ad to promote a special free download, you can exclude anyone who's landed on the confirmation page within the last 30 or 180 days from seeing the ad. Because they don't need to see it. They've already gotten the download.
Your Next Step: Round up confirmation URLs and create custom website traffic audiences for them – one for 30 days and one for 180 days.
---
Sales Page & Opt-in Page – 30 days
This time… you'll be creating audiences for any sales pages or opt-in pages you think you may eventually run ads for.
If you don't think you'll run an ad for it, don't bother creating an audience.
Can you guess what kind of audience these are? YEP – custom website traffic.
A 30 day timeframe is good for at minimum here. Most likely, someone who visited your sales or opt-in page more than a month ago is not really going to remember why they were there to begin with.
Your Next Step: Create custom website traffic audiences for any sales pages or opt-in pages you think you may someday run ads for.
---
Instagram Engagement – 30 Days and 180 Days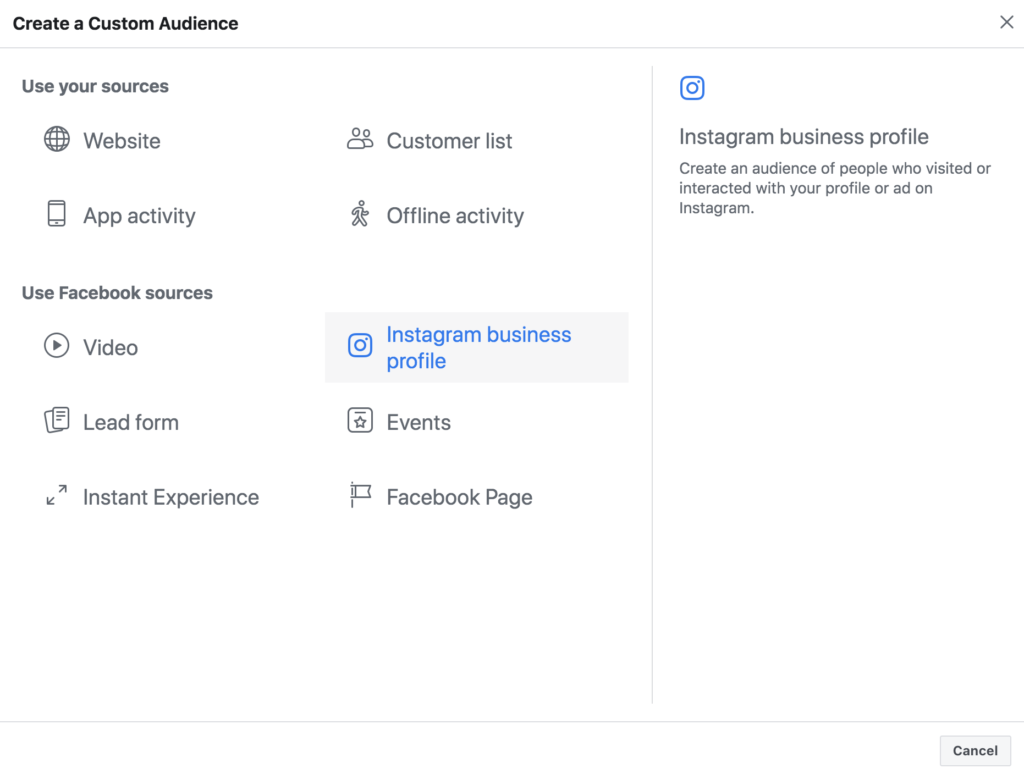 If you've connected your Instagram account to your Facebook business page, you can create a custom engagement audience for it – score!
This is great news if you have a very active, engaged Instagram community.
Once you click that button, a window will popup giving you a few options on how to create the audience.
Here are the options: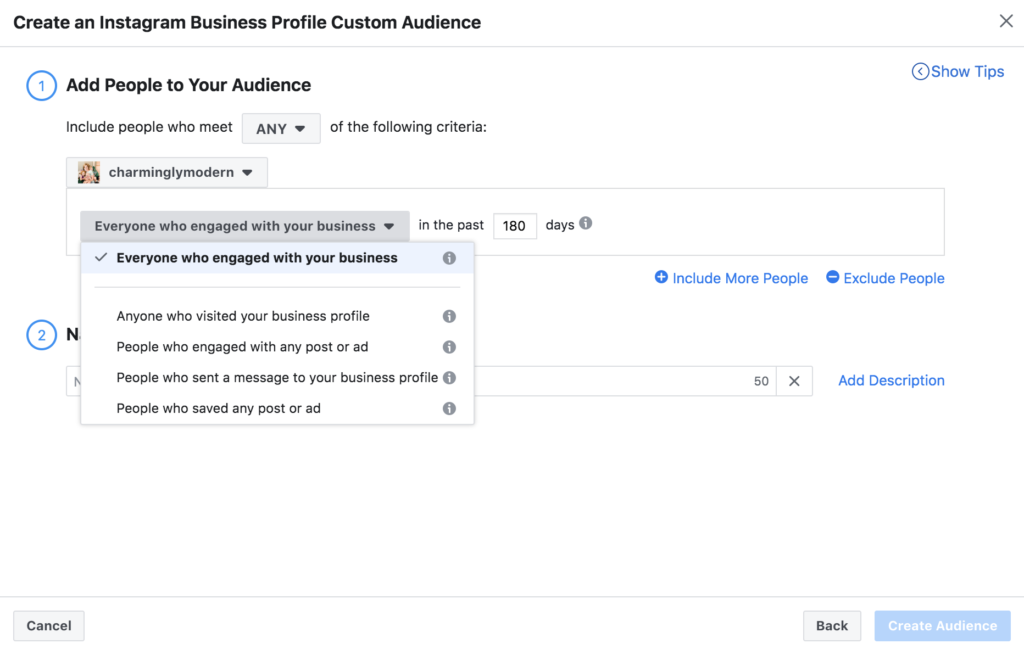 Everyone who engaged with your business – You see all those options below this one? This one contains ALL of those in one. Choose this if you don't want to differentiate anyone at all.
The remaining options are pretty self-explanatory, right? So the question is… is it worth separating all these people out into their own audiences or not?
The long answer: it depends. What's the activity like on your IG account? Are your DMs blowing up and super active? Do you get crazy amounts of engagement on your posts? What will you be using these audiences for in your ad?
The short answer: it doesn't hurt to create ALL of those audiences.
In my opinion, go ahead and create all of them but keep the very specialized ones (the bottom 4 options) limited to the last 30 days.
Your Next Step: Create two audiences that contain everyone who's engaged with your profile – one for 30 days and one for 180 days. Then, create the remaining 4 audiences, limiting it to the last 30 days
---
Facebook Engagement – 30 Days and 180 Days
This is nearly identical to the Instagram audiences you just created.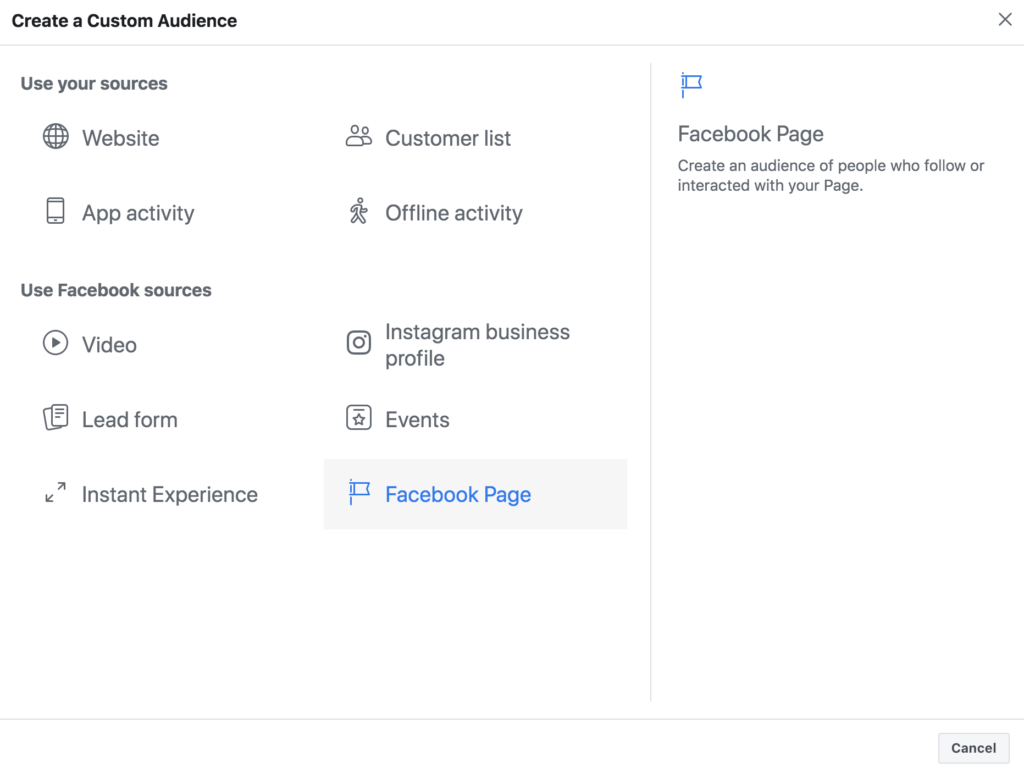 Select that Facebook Page option, then you'll see a screen that looks like the one for Instagram.
The only difference is because a Facebook page has a call to action button on it and Facebook allows you to create an audience around that.
Pro Tip: this is helpful if your call to action button takes someone to, say, your online shop. You could then target ads to anyone who had visited your shop through that button.
The same steps will apply here, as well as the same recommendation from before.
Your Next Steps: Create two audiences of everyone who engaged with your page – one within 30 days and one within 180 days. Then create 30 day audiences for the remaining 5 options.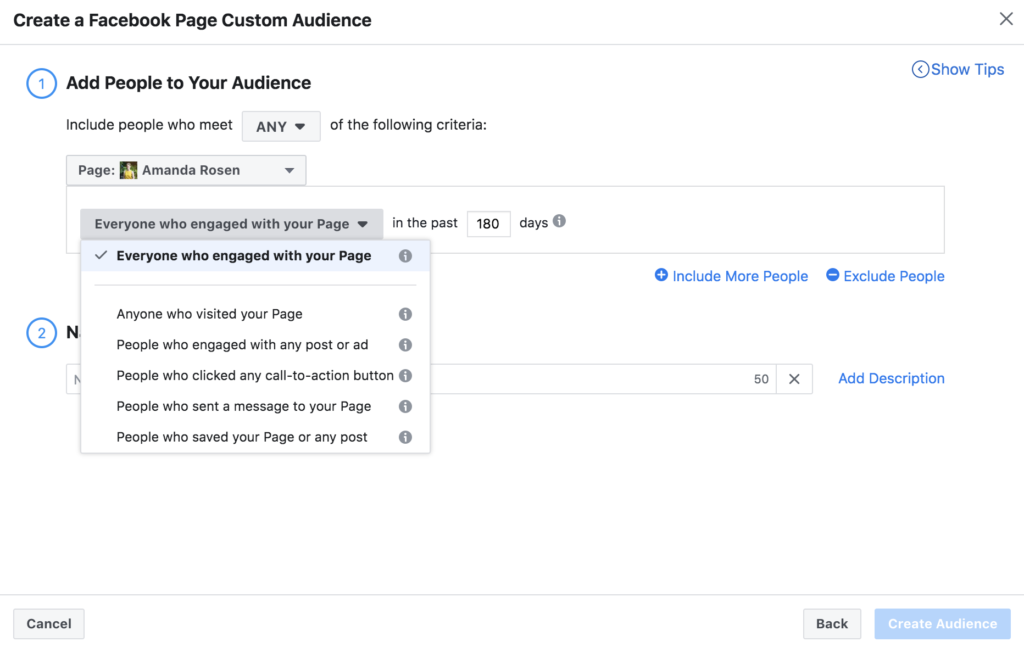 You did it! Your audiences are optimized!
Congrats! You've done it! Now you have the core warm audiences to target for your Facebook ads.
Which means when it's time to setup those campaigns targeting warm people… you'll be all set.
READY TO WORK WITH US?
Let's talk about how Create Inspire Convert can help your business take the next step with its online marketing strategy.
We hate SPAM. We will never sell your information, for any reason.